Chatbots Tools
Chatbots have become an essential tool for businesses to automate their customer service and support functions. With the advent of GPT3, chatbots can now be developed to provide an even more personalized and human-like interaction with customers. GPT3-powered chatbots can understand complex user queries and provide intelligent responses, making them an indispensable tool for businesses looking to enhance their customer experience. At Accuwebtech, we specialize in developing GPT3-powered chatbots that can handle a variety of use cases, from customer support to sales and marketing.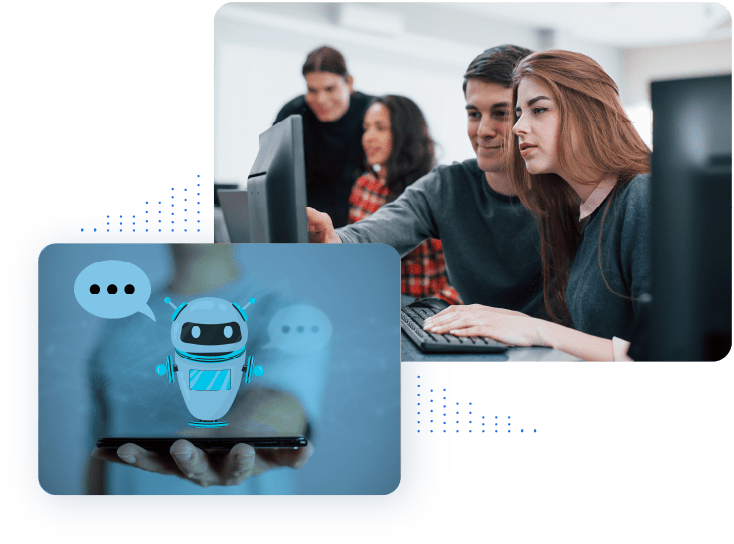 Our experienced developers can help you create a chatbot that integrates seamlessly with your existing systems and can be customized to meet your specific business requirements. Whether you need a chatbot for your website, mobile app, or social media platform, we can help you develop a solution that drives engagement and enhances the customer experience. With our GPT3-powered chatbots, you can stay ahead of the competition and provide your customers with an unparalleled level of service and support.
Industry-specific Virtual Assistant Powered BY GPT3
Industry-specific virtual assistants powered by GPT-3 can be a game-changer for businesses. These assistants can provide specialized support in areas such as healthcare, finance, legal, and more. For instance, a healthcare virtual assistant can provide personalized patient care by answering common medical questions and scheduling appointments. In the finance industry, virtual assistants can assist customers with account-related inquiries, and in the legal industry, they can provide legal research support to lawyers. The possibilities are endless, and with the power of GPT-3, these virtual assistants can provide accurate and relevant responses to user queries.
In AR management, an account receivable summary plays an important role, that will help you to see who owes you the money, how much each customer owes, and who missed their patent deadline. Your receivables can be assessed in a variety of ways, including by individual patient, insurance plan, and payer class, according to the AR summary. To avoid this patient's liability being added to the AR, our billing staff will verify insurance eligibility prior to the day of service.